Dream Body Butter and Royal Earth Gold Soap Package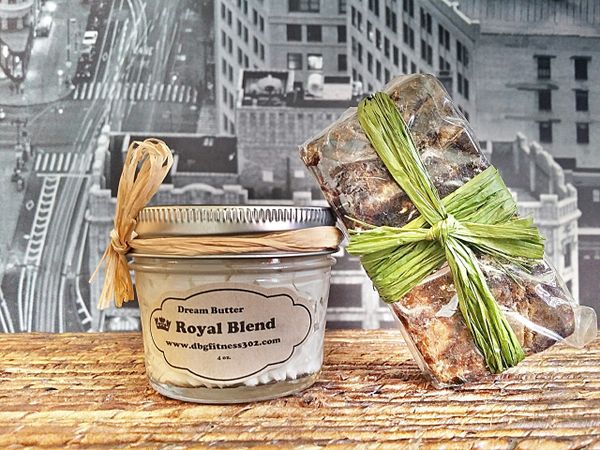 Dream Body Butter and Royal Earth Gold Soap Package
Enjoy the cleaning and moisturizing power of this fantastic package!
(1) 4 oz Dream Body Butter Royal Blend and (1) Royal Earth Gold Soap.
Handmade blend of premium ivory shea butter with multiple moisturizers whipped into a creamy souffle for the body.
This organic blend is great for every skin type to rejuvenate and moisturize the skin.

Dream Body Butter Available In:
1. Royal Blend (Unscented),
2. Royal Vanilla
3. Golden Sandalwood
Enjoy this luxurious butter from our Fitness Body Care Line.
Try a 4 oz Jewel for yourself or purchase it as a luxury gift for a friend.
Use Royal Earth Gold Soap for cleansing. This great organic soap has many ingredients that are great for nourishing the skin.

Whipped Dream Shea Body Butter Ingredients, Organic unrefined shea butter, organic extra virgin coconut oil, Jamaican black castor oil, jojoba oil, almond oil, rosemary oil, and pure essential oil fragrance